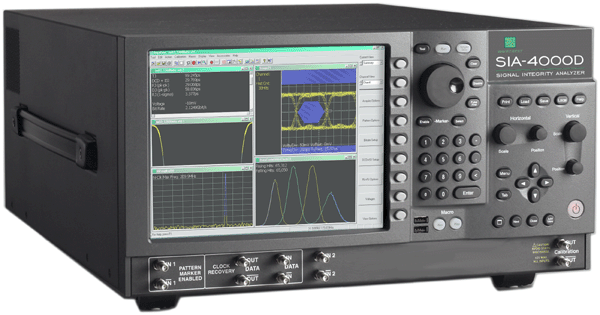 UPGRADE TODAY!

New generation serial data standards with increasing speeds are continuously being introduced, causing significant signal integrity, jitter and performance test issues during the design and production of your devices. Robust performance testing is needed to ensure higher design margins and interoperability, and as a result, higher production yields.

Now, with the Wavecrest SIA-4000, generate significant detail about the performance of your devices - even those exhibiting complex jitter behaviors. Perform optimized signal integrity testing on serial data applications up to 12.5 Gb/s and beyond, as well as on 15GHz clock and PLL applications.

With this newest addition to the Wavecrest family of signal analysis solutions, be assured of the most accurate reproduction of your signal obtained from our unique combinition of both time domain measurements and waveform representation. Wavecrest instruments have offered high-speed test capabilities to design engineers for over 10 years. This experience enables us to provide you with all the compliance and diagnostic tools for most serial data applications.


The SIA-4000D model is designed for serial data analysis on applications such as PCI ExpressTM Gen 2, FB DIMM, 8X Fibre Channel and SONET. Using the compliance toolsets designed for industry standard specifications, you will go beyond the minimum compliance testing. For example, with the PCI Express toolset, perform reference clock compliance tests including 3nd order PLL transfer function peaking, rise edge and fall rates and duty cycle along with a complete set of serial data compliance analysis.

Features
Noise floor <200 femtoseconds


15GHz, Color gradient, sampling oscilloscope with Random Noise,
Deterministic Noise and Total Noise measurements


Integrated Pattern Detect


Pattern marker included on each channel


Individual scope trigger on each channel


Expanded Eye Mask capabilities


Power Spectral Density measurements from a Jitter Spectrum


Random and Deterministic Jitter Separation


2nd and 3rd Order PLL Characterization with PLL 3dB Frequency, Peaking and Transfer Function - without the need for a signal source

Click here for the 4000 data sheet.

Click here for the 4000 specification brochure.